The Snapper of Snappers,
The Golden Snapper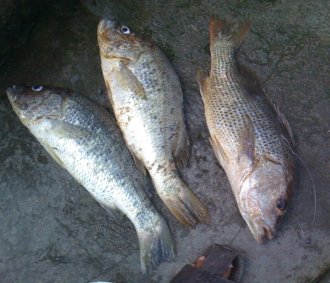 Anecdotes and Behavior
Of the marine tropical fish out there, the Golden Snapper holds its own. This guy looks nice, it has a golden-red-silvery tinge to its scales, one of those that if you turn it at angles, different shades will show itself.
To the trained eyed, one will also be able to make out the big black dot that exists almost out of sight towards its tail. Again, folding and unfolding out of view, depending on the angle.
It has visible teeth and so my friend, you definitely do not want your fingers near its mouth!
A handful at 1kg or 2.2lbs in weight, the more common 2-3kg or 4-7lbs fish is a good size meal for a few people. Larger, and they do get larger, this fish, can be a large tropical fish and will be a small feast.
Its flesh sweet as any tropical sea fish but most of all, its a splendid adversary of the rod and reel.
Thats right, after my almost passionate soliloquy up there (come on... you gotta give me a hand right!?), the Golden Snapper is the first fish I will describe via my fishing experience of this splendid tropical saltwater fish.
My experience with the Golden Snapper is mostly confined to pay pond fishing. I have in fact caught more than a dozen of these fish not too long ago, perhaps up to two dozen (of course at different occasions).
They do frequent brackish water but in fact also exist around ship wrecks and perhaps some deeper reefs in the tropics.
In a pay pond setting, the Golden Snapper is a mobile creature. I know you are like, "Hellooo!... its a fish isnt it, of course its mobile!", yes I know I know, fish like to move, they swim in water bla bla bla right.
What I am trying to get at is, not all fish move about a lot. If you have aquarium fish, you will notice this and more so as your fish get bigger.
In fact there are plenty of fish that would rather not move at all, but that would be for another page and another time.
So the Golden Snapper moves, it hangs out by the piers, just as well as it will play by running water. And yet sometimes still, it moves along the calm areas of the pond.
So how on earth do you catch a fish thats everywhere??
Well firstly its not a bad thing that the Golden Snapper moves about so much. In theory, it gives you a better chance that your hardly moving bait will get eaten, then again thats one of those chicken and egg type theories.
It remains that this is called 'fishing' and not 'catching'.
The key point is to know where they might be and present the Golden Snapper with an offering that it cannot refuse!
Yes, it almost sounds like sending a slave into the Games of Ancient Rome, to the jaws of the savage beast! (But actually its true hehe :) ).
You see fishing for anything requires you to understand the fish you are trying to fish for.
What kind of bait it likes, where can you likely find the fish you are looking for, how deep do they swim, what time of day do they eat, do they like sun or rain, and on and on are the theories.
So what about the Golden Snapper? Well I have found the following few things:
1) The Golden Snapper will play by running water just as well as calm water in the open or by a jetty.
2) They will eat both dead and live bait, sometimes with no rhyme or reason, sometimes affected by the amount of sunlight.
How it is affected by sunlight can also be topsy-turvy, but generally the brighter it is, the more visible a thing it will eat. This also depends on how cloudy the water is but generally a silvery tinge of live bait or dead bait will be a good friend.
3) Live bait can be live shrimp or live fish. The best dead bait seems to be mackerel and nothing else.
4) Finding your own 'concoction' of dead bait with mackerel as a base can yield you good results :) (mix a few things in there and try it!).
5) The Golden Snapper tends to swim at 'half height' of the pond but may also be at the bottom.
6) Point 5 means that you can both use a weight to way down your fishing line at the bottom and catch one or you can use a float that dangles the bait about half the depth of the pond to catch one as well. The preference is yours.
So, you have all these key points down, so now what right?
Well first of course is patience. Patience here is both in letting your bait attract the Golden Snapper, which means doing the above things and not moving your bait around too much too fast.
15 minutes minimum soak time (if you like the program 'Deadliest Catch' you will get what I mean) is necessary. Not much longer than that, then change your bait if you need to and change your spot as well.
AND
also patience in the sense that when you get a bite, (and if YOU are 'in tuned' enough with the fish, you WILL get a bite) be patient before you yank it.
If you are using a float, you will see the float being pulled under, if the fish is big, it will be a mighty plunge downwards of your float, if its a smaller one, it will be a slower drag of the float, perhaps submerging the float totally, perhaps partially, sometimes the float will be submerged and come back up and submerge again.
Either way, reel in slowly first and feel the fish eating your bait. When you can feel the Golden Snapper, and you will feel as if you were holding a long rope tied to a shoe that your neighbors dog is tearing apart, once you feel this type of sensation (Yes I know its a bit graphic), this means your line is taut, its time to yank that baby! and Yank it you will!
Be prepared for a lovely reel action that only you and me the fishing enthusiast can tell what exactly is so good about it.
If you are using a weight with no float, and the bait is taken, its likely the fish will run with it, so its more of an instinct here when you should yank the line, if your fishing line is streaming away already, just go ahead and yank it and you should be there.
Reel in, and reel in quickly as the Golden Snapper is also a jumper! Playing with it can mean you will lose it.
I once lost one, because, for some unknown reason there was a chair floating right in front of me and resisting better judgement of removing the bloody chair earlier, the large tropical saltwater fish got caught in the chair and the dastardly thing got away! (Of course its large, cos its 'the fish that got away'!)
Now.... if I have kept you enthralled then I am a decent story teller :) What some of you may have caught well in advance though is, how in the heck do you know whether the fish you caught is a Golden Snapper??
Its a super question.
To be honest, you wont really know until you see the fish. Generally though, its a strong fish that will swim this way and that and it will resist you. You will know how it tugs when you get one and you will know again later on that it is a Golden Snapper.
Great fish, good eats, good fun. The Golden Snapper. Yeah!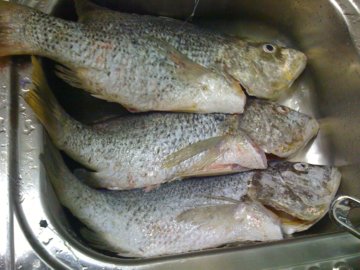 Update
So I was just out fishing again yesterday. The usual pay pond had just changed its water and so the water was crystal clear!
Just about half an hour or so before I was leaving, the owners restocked the pond with some Golden Snappers. They released them right by the front of the place, underneath the piers.
Quite a commotion ensued because with the crystal clear waters, you could actually see the Golden Snappers beneath you so it was a free for all of baits dangling down there soon after.
One or 2 of the anglers managed to catch a few fish quickly.
I had the rotten luck of getting my bait taken 2 or 3 times with the hook not setting and so I did not get a single fish.
Yeah yeah slightly disappointing I know, but what I wanted to update was the amazing experience of watching the Golden Snapper itself.
Firstly, this fish swam all over the place under the pier. Scooting about between the columns and often times checking out little caves beneath.
So both counts of behavior I mentioned above i.e. of the fish being mobile and also hanging out by the piers, are definitely correct since I saw it happening! (Before it was more of intuition)
Another curious thing was after a couple of the fish got pulled up, having taken baits that had hooks successfully hooking them, the remaining few no longer cared about the baits!
And there were all kinds of baits in the water. Often times the fish would literally swim past the bait and even avoiding them altogether! (Avoiding here, I mean like you were walking and avoiding a street lamp kind of avoiding i.e. you would physically move out of the way)
Sure maybe some of them were full already. The most telling point here is though, all those hours spent fishing, may have had plenty of fish swimming past the bait being offered, but they were just simply ignoring the food in front of them or even right next to them for some reason or another (since I saw it happening live).
Totally an unbelievable eye opening experience!
It really is a lot to do with luck and how you try to increase your luck of getting a bite.
Oh, another interesting behavioral aspect, on each occasion where I lost the fish when it ate my bait, was that the Golden Snapper would pause and then gulp the bait. It was a split second thing.
I probably lost the fish, cause I yanked too fast. Again goes to show, feel the fish first, and then yank.
So know thy fish!
Fish Satisfaction Index (FSI)
Easy care?
The Golden Snapper is a favorite aquaculture fish, a marine fish though. In that sense it should be an easy fish to care for in an aquaculture setting. its not one for the fishkeeping enthusiast cos this guy can grow to a few kgs (1kg=2.2lbs) :D
Nice colors?
It does have interesting set of colors. Golden kinda, changes in the sun as u move it around, glistens almost silver almost. Distinctively it has a spot towards the tail which again folds in and out of the light.
Fishing/Reeling satisfaction?
This guy is tops in fishing action! This fish will go this way and that and you will know when you got one of these. Its also a jumper so be warned that you may lose the fish when you get it. Its one of those that takes the bait and runs with it before actually eating so you need to be patient on the yank action.
Overall FSI?
9/10 is my score based on solely on the fishing satisfaction. (well okay, they are pretty good eats as well) A 2kg fish is a handful, but once they get closer to 3 and more, you start to wonder what kind of monster you have on the other side of your line. Be sure to have good poundage in your fishing line and some grit to pull this guy in!

Return from golden snapper to types of fish

Return to tropical fish catalogs